As one of India's most awaited marathon Lok Sabha elections has come to a close, everyone's attention is now on the various exit polls. With just 2 days left for the election results to pour in, speculations are rife about which party will win majority or whether it would be a coalition led government. What is your opinion on this? You voted and made your vote count. Now share your opinion and make your prediction count! Log on to quiz Singh's prediction game using the link below :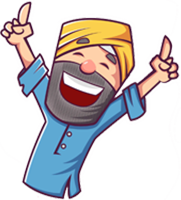 Get your friends to make their predictions too – healthy competition never hurt anyone! Through QuizSingh, you can live chat with your friends and discuss your political favourites in chat rooms. QuizSingh also gives you a chance to earn some 'allies' in the form of 'hearts' that you can use to power play!
Once the results are out, you can check the leaderboard to see how you fared. While our leaders campaign so hard and win the elections to climb the political ladder, you get a chance to climb the leaderboard by just clicking and voicing your opinion! So go right ahead…Make your prediction count!